Reef Divers was the idea and passion of Witold Smilowski, a polish immigrant that came to South Africa in 1984 as an immigrant worker to work in South Africa for Siemens and BMW SA.
Witold was a martial arts instructor and when he became involved in scuba diving soon became a Scuba Instructor and then started teaching his friends at BMW to dive. This passion soon turned into a business and Reef Divers was unofficially established around 1989.
Reef Divers soon grew so fast that Witold asked Cobus Jacobs to join as a partner and the two of them proceeded to teach Pretoria (and Tzaneen) to dive!
They started off in Witold's house in Wonderboom and later moved to the Sanlam centre where they shared a shop (Heart and soul) with Johnny Halberstadt of running fame - It was strange to walk into a shop and buy running shoes on the right-hand side and dive gear at the left-hand side register!
During 1994 Reef Divers became a PADI Dive Centre and 6 months later a 5-star centre once they had moved into the centre on their own premises. We were the first PADI 5-star centre in South Africa and only the second PADI centre in the country!
in 1997 Reef Divers moved into the current property in Justice Mahomed Street (Charles street then) where they proceeded to build Classrooms, a pool and outbuilding to support the business.
Witold became a PADI Course Director in 1996 and was extremely busy teaching Instructors all over the country. Witold left Reef Divers to Cobus while he then focused on the PADI IDC training.
In October of 1998 Cobus approached Peter Herbst (BigB) to become a partner in the business.
During 2000 Cobus Jacobs decide to move away from teaching scuba and BigB then took over his share of the business.
Witold Smilowski passed away in his sleep on 28 March 2011at the age of 55 while assisting on a PADI Course Director program in Malysia.
Cobus passed away peacefully on 6 Nov 2015 at the age of 46.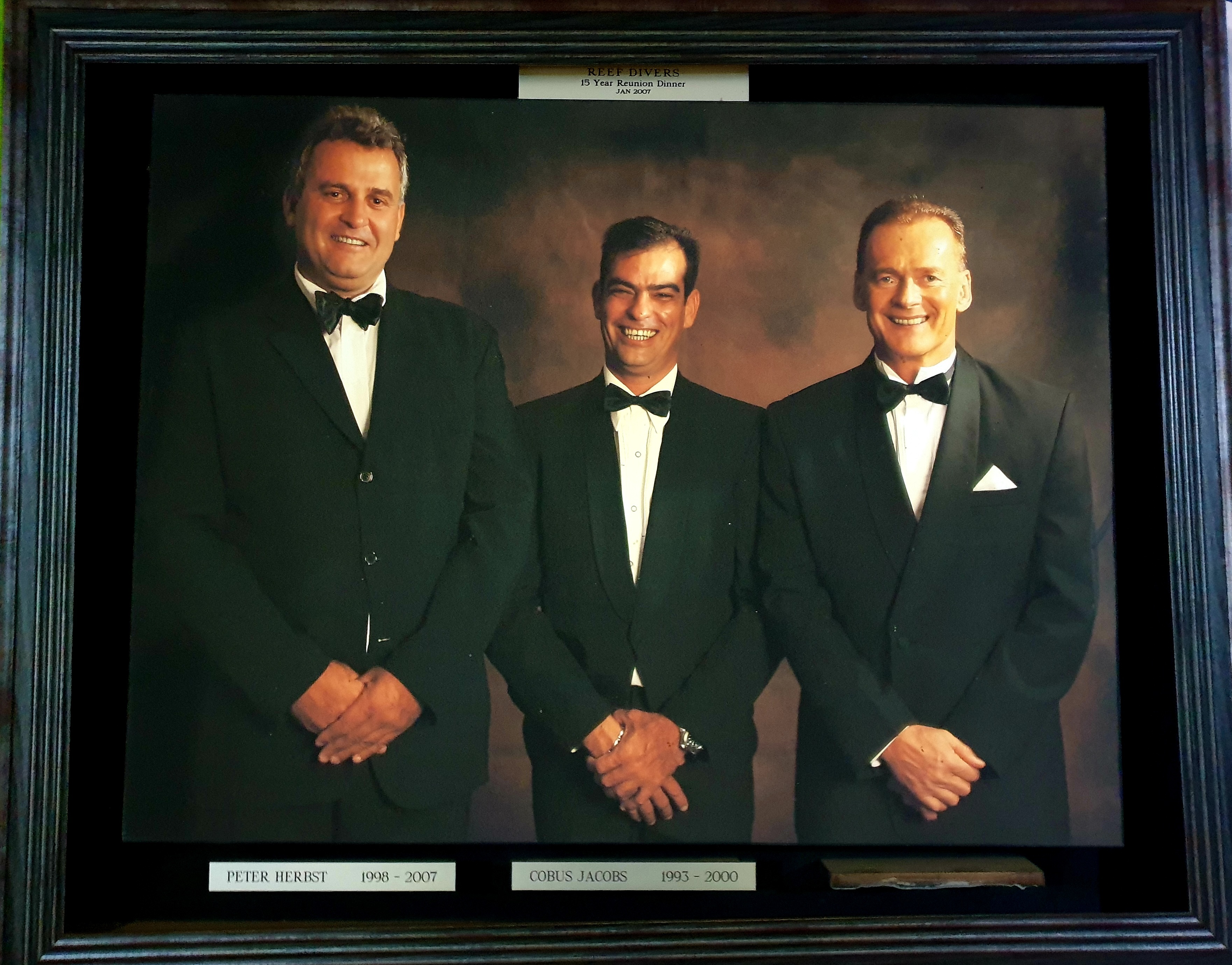 We have created this page in memory of these two guys but also to share the many years of fun and friends. If anyone has any old pictures or more to add to the history page, please mail me the pictures with descriptions and dates and I will gladly add!
There are lots of more pics on this drive! click and check it out.
BigB