Dahab & Mini Liveaboard
- 4 Nights Dahab

- 3 Nights Liveaboard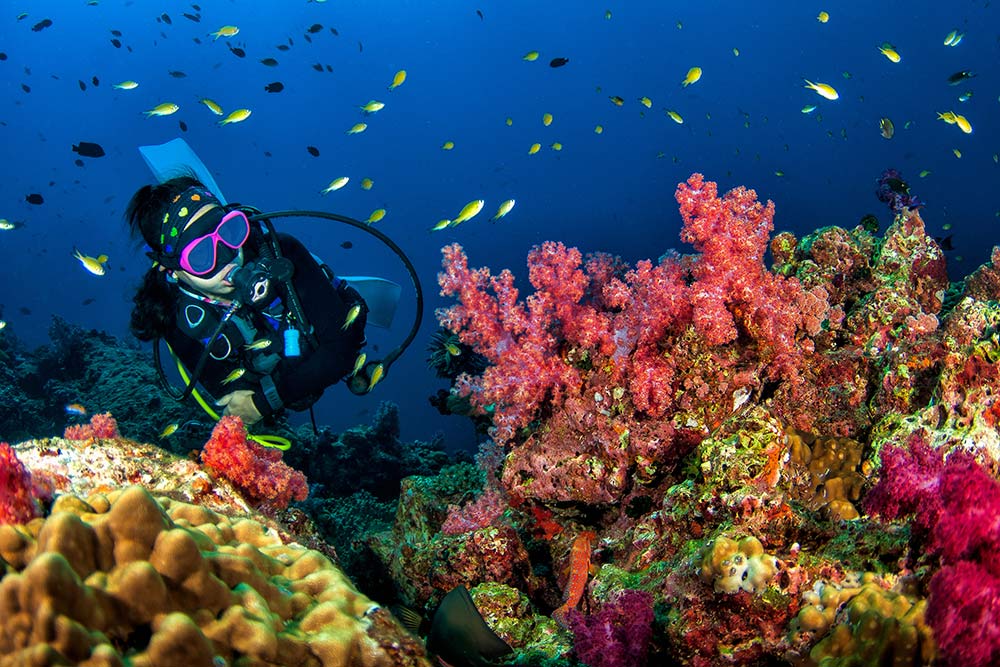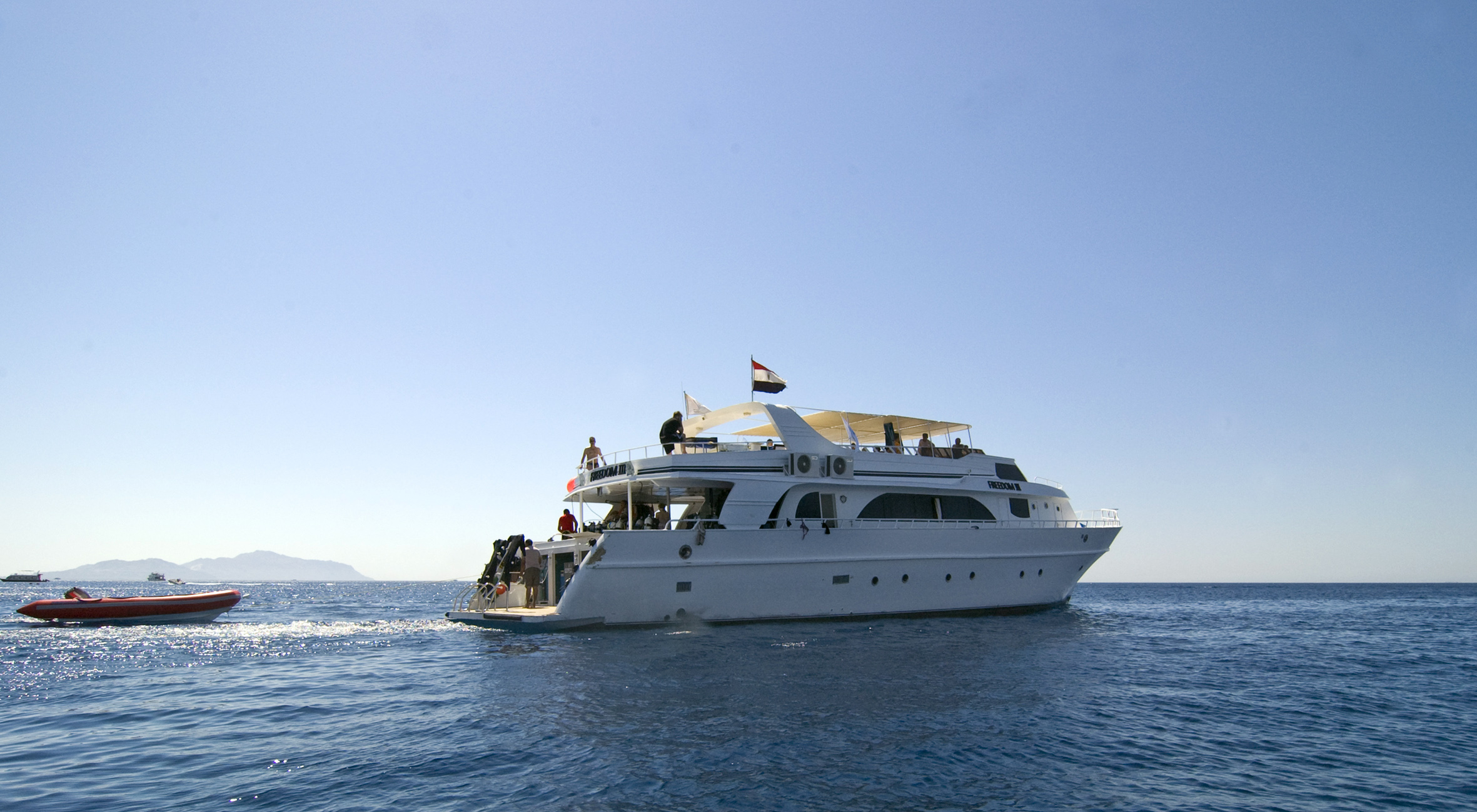 Trip Highlights
The Town of Dahab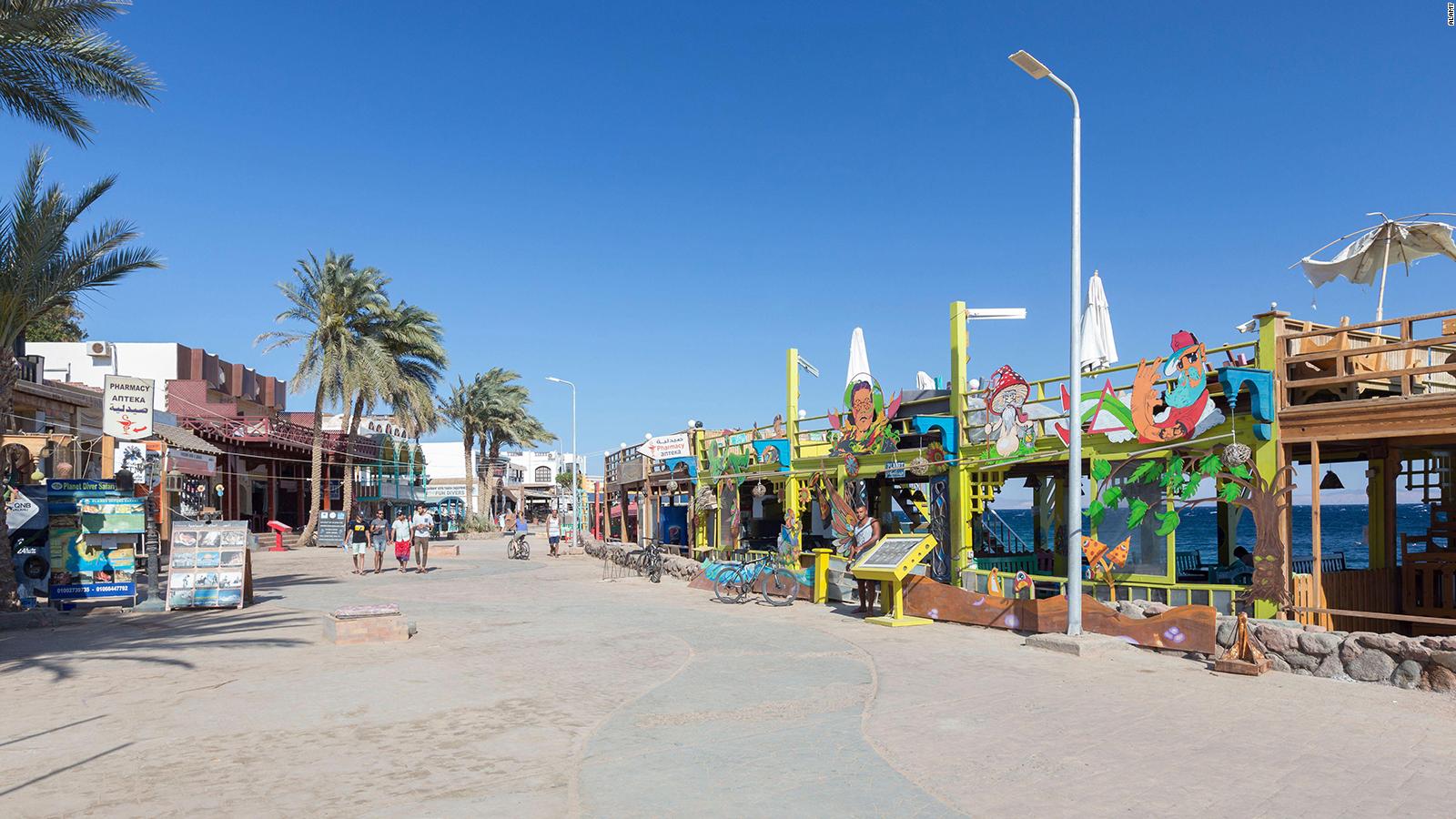 Dahab is a small Egyptian town on the southeast coast of the Sinai Peninsula in Egypt, approximately 80 km (50 mi) northeast of Sharm el-Sheikh. Formerly a Bedouin fishing village, Dahab is now considered to be one of Egypt's most treasured diving destinations.
Low-key, laid-back and low-rise, Dahab is the Middle East's Hippy town and many travelers who booked for a few days, end up staying for weeks!
Dahab Diving
Dahab Reefs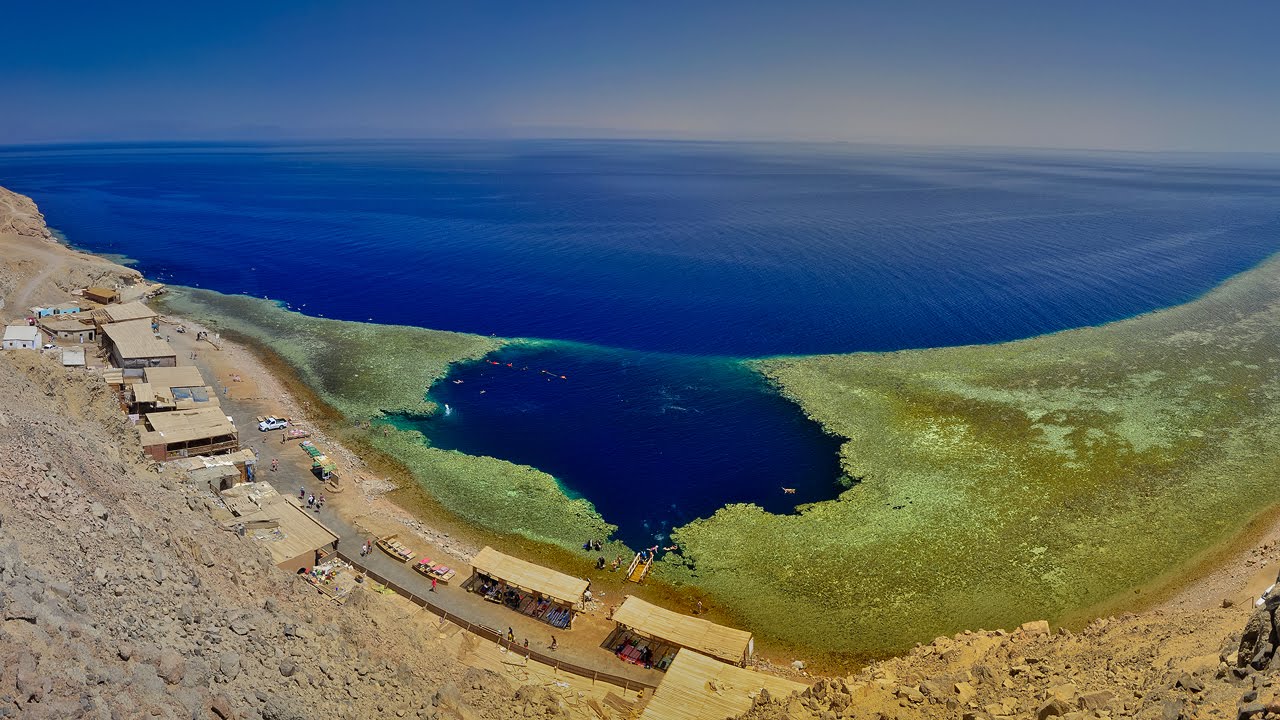 One of the premier dives sites here in Dahab is the Bells, a spectacular wall dive of amazing beauty. The Bells is a large vein of rock that has eroded out leaving a deep gash in the reef that drops to 45 meters formed where a deep groove cuts into the reef top just north of the Blue Hole. The groove of the Bells breaches the reef table, and a clear blue pool is formed; this is where the dive is started. As you drop through this pool, you will emerge on the reef wall at about 12 meters. The groove disappears to re-emerge deeper at 28 meters. The open water here is some of the clearest, deepest blue you will see. The wall itself descends down into the blue to over 200m which only adds to the anticipation experienced when emerging through the chimney. It is vertical and in parts overhanging, with a rich growth of black corals and sea fans.
The dive ends as you cross over a shallow saddle into the blue hole.
The Dahab Canyon is the classic canyon, an essential dive for all fanatics of caves and cavern diving. The Canyon is itself quite a phenomenon. Up to 10 meters high and virtually closed over at the top, it snakes its way up from the depths, to emerge in a large glassfish filled coral dome. The Canyon dive site offers an easy entry and exit point through a shallow, sandy lagoon. This leads out to beautiful coral gardens inhabited by Butterfly fishes, Unicorn fishes, Octopus, Puffer fish and of course Red Sea Anthias, which can only be fully explored after several visits. The Canyon itself is positioned about five minutes north-east from the exit of the lagoon. The entry to the Canyon is done through it largest point at about 20 meters. The progression through the Canyon is easy and the light effect caused by the sun rays is fantastic.
is located next to the Canyon with the same entry and exit. Instead of heading north as you exit the lagoon you will go south towards this beautiful, rounded wall. You will make your way south along the wall with the clear blue water to one side where you may see one of our large Napoleon fish swims by. As you shallow up you will swim through a sandy maze with hard and soft corals. This site is great for underwater photography.
A truly spectacular site for coral, this site is very exposed and can only be dived on calm days. Entry is via a small winding lagoon that leads out onto a vast sand bank which is covered in garden eels. As we cross the sand bank the eels retreat into their holes and pop back up again behind us. As we come back along the reef edge, you'll see some of the brightest and most colourful coral in Dahab.
Situated at the Northern end of the bay of Dahab, is home to the confined water training area due to its large sandy slopes and gentle drop off. The Lighthouse offers a number of different dives depending on the route chosen, and the sprawling coral gardens offer an abundance of marine life and vividly colourful corals, extending far from the shore. The Lighthouse is made up of a large rocky wall that wraps around the point whilst heading north to the Eel Garden. The wall and the sprawling coral gardens, which extend far from the shore, offer varying depth ranges down to 60M plus making it suitable for all. Larger aquatic creatures, alongside a spectacular variety of corals, make it a very popular dive site. The Lighthouse is perfect for beginners, this easy to enter site still has a fantastic range of coral and fish life and also makes an ideal first technical dive in Dahab to brush up on buoyancy and equipment configuration.
This site is a favorite among guides and guests alike. A coral maze which truly shows the Red Sea coral at its best. Three giant pinnacles have grown together over the ages to create a playground of valleys and lagoons full of every reef fish you can imagine. One of the lagoons is home to thousands of juvenile barracuda, with trevally and large snapper always in attendance guarding their larder! An earthquake 10 years ago collapsed huge sections of the reef exposing holes and cracks that are rapidly filling up with renewed coral growth. This dive site never disappoints and as one of the shallower dives it is accessible to all certification levels.
One of the sites in the Southern Oasis and is a dive guide favorite. The reef here juts out quite a way and drops down to a sandy slope covered in Garden Eels, the best dive is to enter on the right-hand side of the reef and keep the reef to your left shoulder, looking out for blue spotted rays, Nudibranchs and don't forget to look out into the blue for eagle rays!
4 Day

Mini Safari Thistlegorm - Ras Mohamed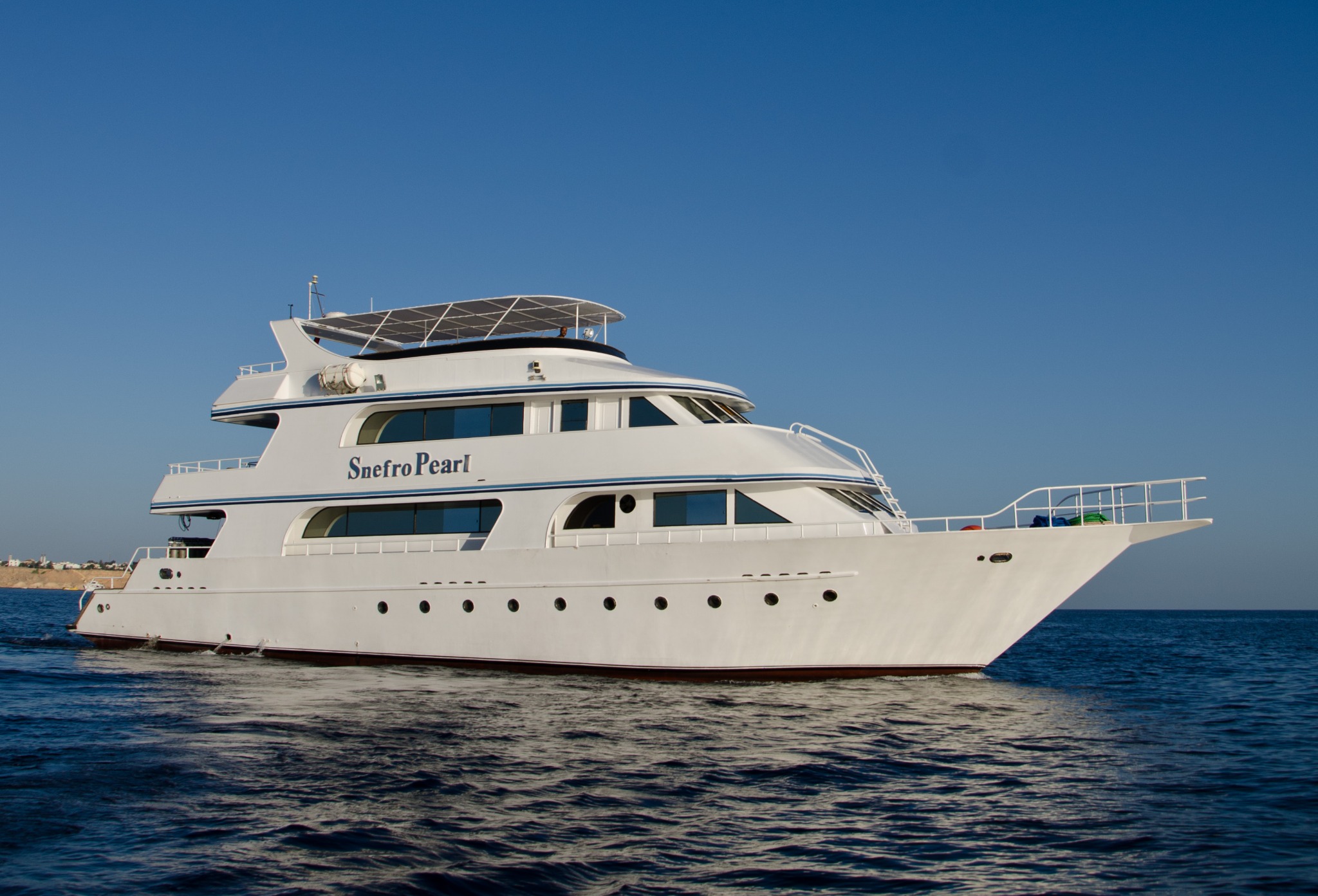 Highlights
This three-day safari is a best seller for more experienced divers, you will dive top spots like Ras Mohamed and the World War II wreck of the Thistlegorm
At least 9 and up to 11 dives are planned, 2 of them will be at the wreck of Thistlegorm
You wish to combine your stay in Sinai with land-based activities while avoid the crowds of daily boat diving
There is a variety of wreck and reef diving with beautiful coral gardens, drop offs, endless walls and colorful slopes rich in marine life and a good chance to swim with dolphins
To enjoy diving you are an Advanced Open Water certified diver with at least 20 logged dives, an Advanced Open Water license and 20 logged dives are mandatory to dive the wreck of Thistlegorm
Sample Itinerary
1. Day
In the evening, starting from 18:00 H (6 PM) onwards transfer to New Marina (El Wataneya) port and embark. Welcome on board, cabin arrangement and boat briefing. Permission work with port authority, sailing very early next morning.
2. Day
Early morning check dive at Temple or Ras Katy. Next dive is Jackfish Alley where you can easily enter the small caves there. The third dive will be the Alternatives, a chain of seven pinnacles with numerous sand patches and resident leopard sharks. Night Diving is very popular here.
3. Day
Very early morning the boat will sail to the wreck of the Thistlegorm, the most famous of the Red Sea wrecks, maybe even worldwide. There is so much to explore so the plan is a minimum of two dives. The first one is an orientation of the outside and the second dive a penetrating one. For the third dive your boat will sail to Small Passage where two channels cut the reef system of Shaab Mahmoud and connect the sheltered lagoon to the open sea. A night dive inside the lagoon is optional.
4. Day
First dive of the day will take you to the historical wreck of the Dunraven, which sank in April 1876 - an old wooden wreck with plenty of room for passing through thousands of glass fish that live here in the shade of the wreck. Next dive is Shark and Yolanda Reef, the southernmost tip of the Sinai Peninsula with an endless wall unique in the Red Sea. Sailing back towards Sharm for your third dive at Ras Zatar, Ras Ghazlani or may be in Ras Um Sid. Return to New Marina (El Wataneya) port and disembark till 16:00 H (4 PM) latest.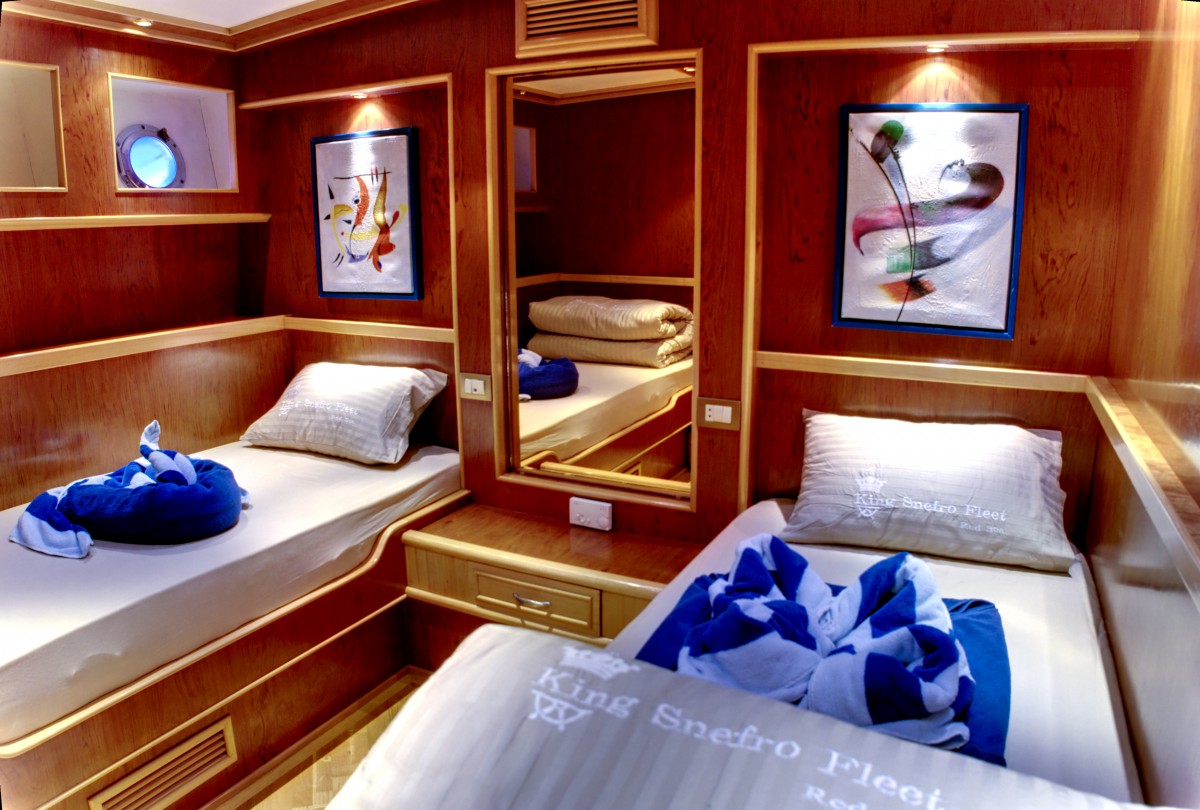 Important Info
You need to be an Advanced Open Water certified diver with at least 20 logged dives. Advanced Open Water qualification is mandatory to penetrate the Thistlegorm. You must have dived in the last year and recorded this in your logbook to join this safari.
The itinerary is an example so if you have a special wish for a certain place in this area just let your dive guide know. Live aboard itineraries are subject to various unpredictable changes including weather conditions. All dives and especially some wreck dives are subject to divers' experience and weather permitted. Live aboard itineraries depend on the Egyptian Government, Coast Guard and/or Marine Police approval. Every effort is made but we cannot guarantee diving at specific sites. The final decision lies with the captain and guide. Safety always comes first!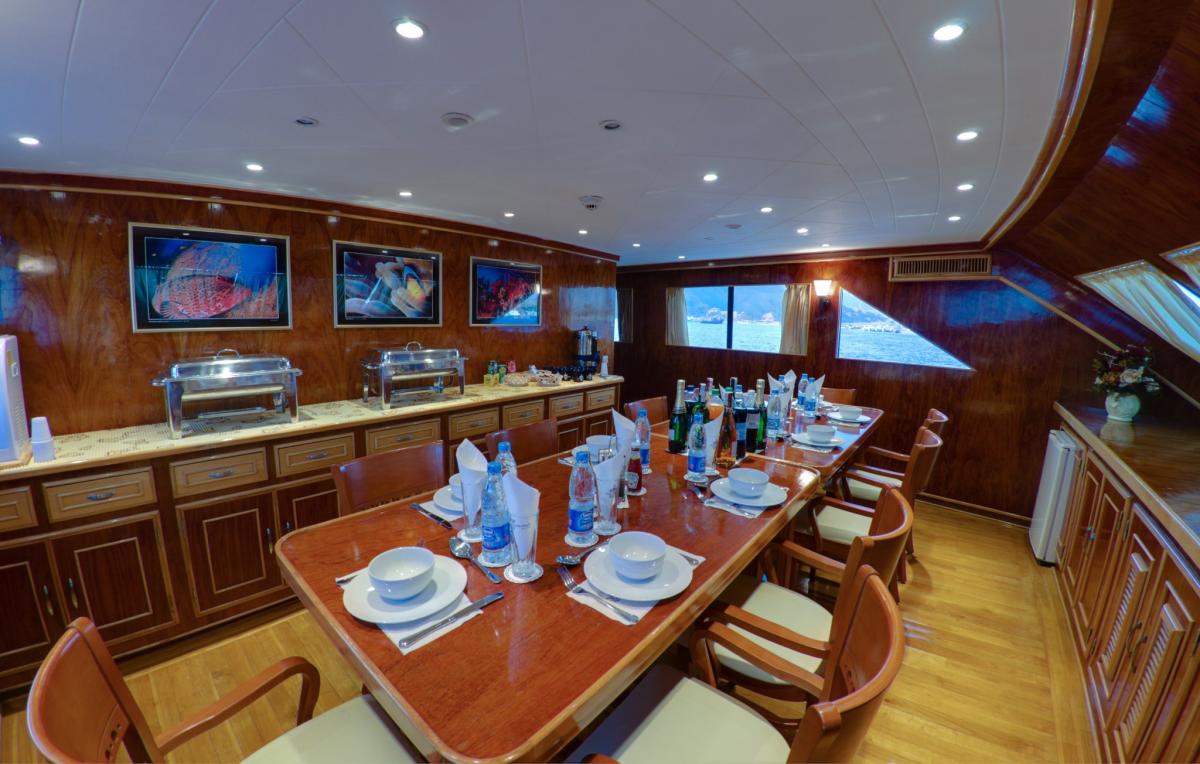 Shared transfers to/from liveaboard at embarkation/disembarkation times
Transfers are as a round trip in the area of Sharm El Sheikh (from Hotel or Airport)
Accommodation in shared twin berth, double bed cabin or Master Suite according to booking
Full board: 3 meals, starting with dinner on arrival day, ending with lunch on last day
Snacks between meals and after dives - Water, Tea, Coffee and Soft Drinks throughout the day
Fuel surcharge
*) Should an additional and substantial increase be enforced by the government we keep the right to review rates.
3-4 dives per day including Night dives, not on arrival/departure day - 9 to 11 dives are planed
Dive Guide, 12 L Alu Tank DIN/INT, weight belts, weight
Snefro Pearl, Snefro Spirit, Snefro Target, Snefro Love: filling of Nitrox 32 % is free for certified divers
*) FREE NITROX: as it is complementary in case of technical problems no refund
Your liveaboard is leaving the Aqaba Coast and the area of Sharm El Sheikh. A full Egyptian Visa (cost 25 $ - 01/2022) is mandatory to join this itinerary. Guests are responsible for checking with an Egyptian Embassy that, for the passport they hold, a visa can be issued on arrival in Egypt. Please see the new e visa service: https://visa2egypt.gov.eg/eVisa/Home
Mandatory Local Fees for National Park, Environmental & Departure Fees: 35 EUR per person per trip
*) All fees according to local rules and regulations, changes are possible on short or even without prior notice
Equipment Rental, 15 L Tanks, Twin Sets & Manifolds
King Snefro 5 & King Snefro 6 have no Nitrox filling station on board
2 tanks 12 L Nitrox per person per trip are available at extra charge, 15 L Nitrox is NOT available
Local Alcoholic Beverages, Espresso (if available) – Guest can bring own alcohol on board and consume after leaving port
Recommended gratitude for the crew and guides per guest: 30 EUR on mini safari